Mind-Sync Yoga & Coaching Workshop
Do you know this feeling of being totally stuck?
Are you looking for answers, but your spiraling thoughts seem to be getting in the way?
Due to our modern society, we are programmed to make decisions mainly with the analytical part of our brain (left brain hemisphere). These decisions, however, sometimes don't feel "right" on another, more physical level and lead to sleepless nights or even show up in physical symptoms.
The concept I developed is called "MindSync" and aims to bring body and mind into balance in order to find sustainable, holistic solutions to problems that feel right in our head, heart and stomach.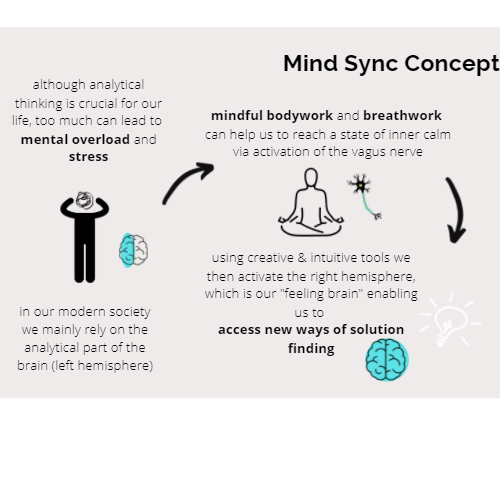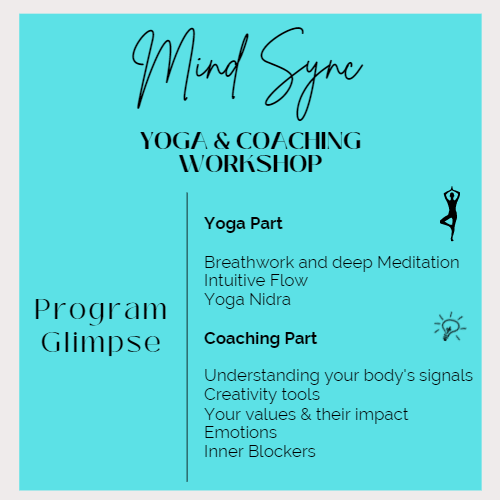 In this two-hour Workshop we will…
start with a Yoga part to help establish a connection to your body with the help of Breathwork, an intuitive Yoga flow and deep meditation
In the subsequent Coaching part, we will then integrate our body's subconscious signals with creative solution finding shaped by my experience with over 25 Coachees so far.
The active and mindful Yoga part is crucial for reaching a state of inner calm mainly via the activation of the vagus nerve and thus the parasympathetic nervous system. From this state of calm and inner balance, we can work on your topics in a focussed and authentic manner. With the help of creative and intuitive methods, we activate the right brain hemisphere, the "feeling brain", and thus achieve synchronization of the two brain hemispheres for holistic solution finding.